John Howard, c. 1970


Barry Graham, c. 1974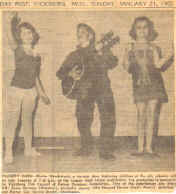 Check out Susie Harmon,
John Howard, and Sharon Cox
probably singing "I Wanna Hold Your Hand!" 1962, Baby!
Oh, Behave!
Past Chill-mate, Beaver Myers, sets-in with The Chill every now and then with his trumpet

Reunion Congrats from Meet The Press and Kathy Stone
THE CHILL: Our History

There have been few musician changes to The Chill over the years in comparison to its 25- plus years longevity. Even with a change of various talented musicians The Chill venue continues true to its original style and sound thanks to the direction of original member John Howard Dennis.
Bill Bradley, Keyboards, (1984 to 1985). Bill was the original keyboard player with the Chill.
Don Woods, Drummer, (Date Unknown). Prior to the Chill, Don performed with the legendary "Gants" who recorded their national hit "Road Runner".
Mark Prewitt, Guitar and Vocals, (1984 to 1996). Mark still lives in Vicksburg and performs with The Chill as a stand-in guitarist occasionally. He also performs locally with Daniel Gilbert-current Chill drummer and John Howard Dennis- current Chill bass player, as a trio group performing Beatles standards. Mark is also an attorney in Vicksburg.
Beaver Myers, Trumpet, (1985 to 1995).
Mike Andrews, Saxophone, (1985 to 2001). Mike passed away in 2001. His musical talents, sense of humor, and contributions to the Chill have been truly missed.
Jeffery Morgan, Keyboards, (1986 to 1990). Jeff is now a lawyer with the Attorney Generals office.
Johnny Crocker, Guitar and Vocals, (1990 to 1992). Johnny lives in Jackson and performs as a single act and with the Johnny Crocker Band. .

John Howard Dennis, Mark Prewitt, Beaver Myers, Mike Andrews…1980 something!

(Chill, about 1993) John Howard, Craig, Daniel, Mark, Beaver, Mike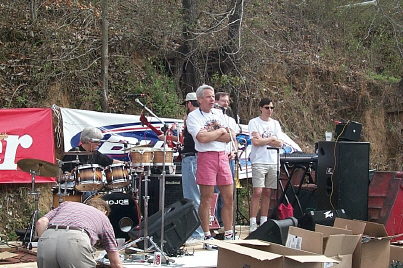 The Chill: Run Thru History 1999